QC Makeup Academy Student Showcase
Bitten
A special effects makeup. Frost bitten in summer.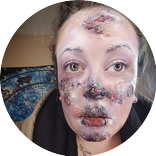 Samantha Cook
Special FX Makeup
---
My name is Sammie and I'm currently studying at QC Makeup Academy.
I started off painting figurines and I slowly realized that I loved making things look beautiful. What better way to do that than helping women and men feel beautiful. I want to help anyone feel their best even if that is from simple help hiding a pimple to doing a full face of makeup and contour.
I personally am super excited to meet people and help them feel how they want to feel in makeup.