QC Makeup Academy Student Showcase
Natural Bridal
The bride wanted to look as natural as possible. She did not want eyeliner so I substituted the eyeliner with eyeshadow.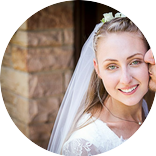 Megan Edwards
Master Makeup Artistry
---
Thanks for stopping by! I'm very excited to start my career in makeup. I have had a love for makeup for quite some time. I guess it's the artist in me. Feel free to check out my profile and message me if you are in need of some glamour or natural beauty in your life.