QC Makeup Academy Student Showcase
Unit E: Fantasy Makeup
For my first Fantasy character, I decided to create a fawn, using lots of contouring and highlighting to make my face more "animalistic". And of course, you can't forget the fawn's trademark spots.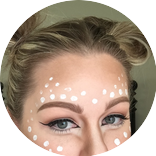 Erin Stokes
Master Makeup Artistry
---
Introduction

My name is Erin, and I am an up-and-coming makeup artist in the Charlotte, NC area. I specialize in prom, bridal, and other special occasion makeup. While I am extremely passionate about makeup, I also greatly enjoy meeting and working with new people. I believe that everyone has their own, unique beauty; and it's my privilege to reveal that beauty to my clients and to the world. No matter the occasion, it is my goal for every client to feel relaxed and beautiful, on the inside and out, when they leave my chair. I am always accepting new clients, and love to connect with my clients via social media. Follow me on Facebook and Instagram to see pictures of my work, beauty tips and tricks, and more!